Sorry it took me this long to get around reviewing the foundation, but I don't want to write a review on any product unless I've had a real intimate experience with it.
You know what I was thinking just now? Gold Fishcake sounds far less charming than Goldfish Cake. Even though the latter is how you're supposed to read it, I'm having a funky day and I'm reading it the other way. I probably shouldn't have pointed this out because now you're all going to call it Gold Fishcake. I mean, I love a good uhmook but it doesn't make an appealing blog name. This paragraph was a waste of time and space.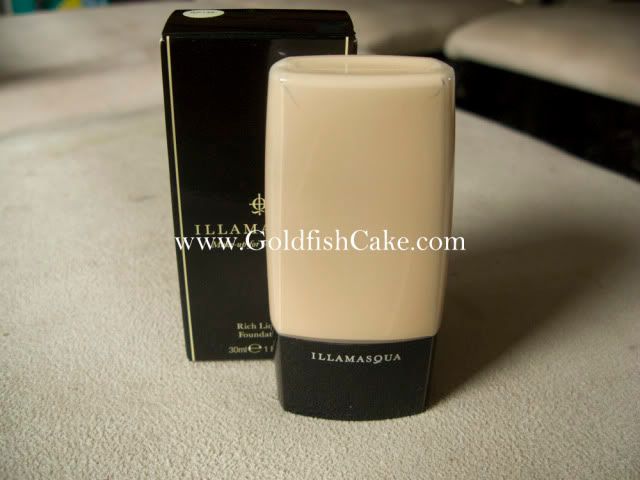 Anyway, I've had this Illamasqua Rich Liquid Foundation in 135 for about 3 weeks now and I've tried it in various ways to see which method of application works best. This is a full-coverage liquid foundation with a powdery matte finish. This review is for combination dry skin with an oily T-zone.
You probably recall from previous blog entries that I was concerned about the color being too light. I would have kept it anyway because I knew that my own skin would lighten considerably during the sunless Oregon winter. I also like the paleness for a more dramatic winter look.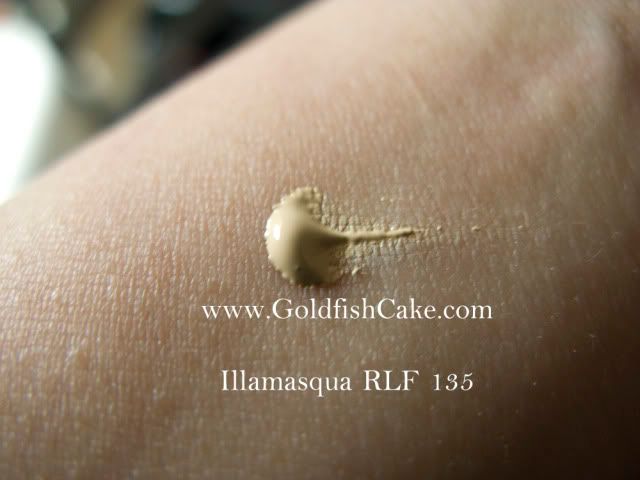 Here's why I plan on returning it, though, and NOT buying the same foundation in a different color.

Highlights flaws
The biggest issue I have with this product is that it brings out every flaw on my face. I don't mean that it highlights the color. No, it actually does a good job of concealing hyperpigmentation and evening out the skin tone. However, even if you did a great job of scrubbing out the dead skin around your old blemish, this foundation will cake around the broken skin, making the blemish stick out like a sore thumb. If you have dry and flaky skin, it will definitely show. If you have fine lines, it will define it. It will even bring out the lines and flakes you didn't know you had. You'll look in the mirror and realize you're even more hideous with cover-up and you'll crawl into a corner to cry because you look like someone threw used tempura batter on your face.
Hard to blend*
It takes time and a LOT of work to get this to blend because it's so thick and chalky. I've tried it with a foundation brush and a stippling brush and they were both too streaky. The best method for me was to use a dry sponge wedge.** It takes a lot of time, nonetheless, because it gets splotchy and uneven. You have to blend the hell out of it, going over the same areas until you're just about ready to fall asleep even before you're ready for the day. I've read reviews where people suggested mixing it with primer or moisturizer and this did not work either. I've been mixing it with a BB cream and it's looked much better. More on that in a bit.
*This could very well be my fault for not getting a perfectly matched color and going light. Maybe that's why it's too streaky and hard to blend. I thought I'd mention this downside anyway so as not to neglect any potentially important information. Furthermore, I suspect this foundation is better suited for normal to oily skin and I get pretty dry in the winter.
**Do not wet the sponge. It will make it even streakier and it will stay that way.
Available online only
I have the hardest time finding the right shade of liquid foundation, even when I'm swatching them at a department store with the help of a salesperson. So, you can imagine how much more frustrating it is to do this online. You might as well be throwing darts blindfolded. The mere thought of returning this in exchange for another color, with the dreaded possibility that the new color wouldn't work either, is a huge turn-off. Especially if you're paying nonrefundable shipping every time. I'd much rather go for something I can physically try out first.
Surely, there must be something to like about this foundation? Indeed, there are a few.
Great coverage
As I've said before, this foundation offers maximum coverage and does a great job of covering hyperpigmentation. It also camouflaged my old ice pick scarring fairly well, without the aid of additional concealer. Once I mixed the foundation with the BB Cream, the consistency and coverage was perfect, except in areas where I had texture problems, such as flaking skin around blemishes.
Amazing staying power
My oily T-zone and chin are the ultimate testing grounds for foundation staying power. My chin hates this foundation, but my chin hates any foundation. The rest of my face clings to it like an orgasming lover (I think this is the ickiest simile I've ever written). This is the only foundation that doesn't require me to touch-up every few hours. After about six hours, it still looks freshly applied. I was particularly amazed with how it didn't melt off the sides of my nose.
Looks great in photos
It's quite deceiving how great this looks in pictures. The streaking and caking of which I've complained don't show in the photos. I wonder if it has some light diffusing power. I assure you it does not look as smooth and flawless in real life as it has in my FOTD photos. I have zero experience with professional makeup but I wouldn't be surprised if this was popular for photoshoots. For me, this kind of sucks right now because my swatch pictures don't help much.

How I apply it
This is what I've found to be the best method for me. I put about half a dime on the palm of my hand. I then add one drop of BienBelle BB Cream.* I use a cotton swab to mix them and dab it around my face. With a dry sponge wedge, in a circular motion, I buff the hell out of it on my face. I then wash my hands, dry them, rub them together until they're warm and hold them gently over my face to set the foundation-BB cream mix.**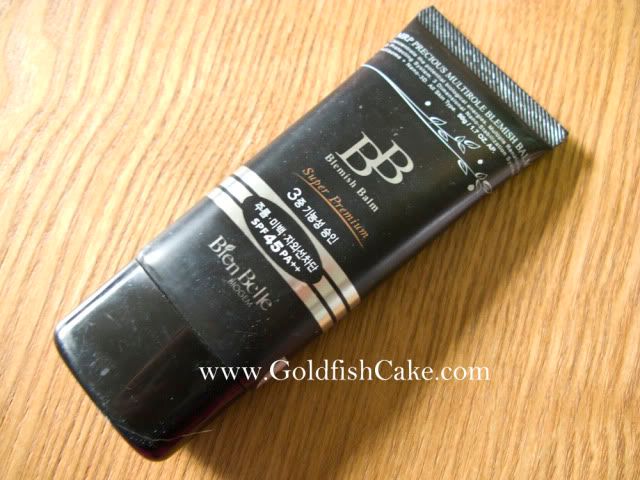 *Why this particular BB Cream? It's only because I've had this and never used it because it was too sheer and too grayish. The consistency of this BB Cream helps to loosen up the Illamasqua foundation, so that it blends into my skin much better.
**Usually, I don't see much benefit in setting foundation with warm hands. However, doing this seems to promote faster oxidation(?) of the foundation, which is what I need for it to stop looking mask-like.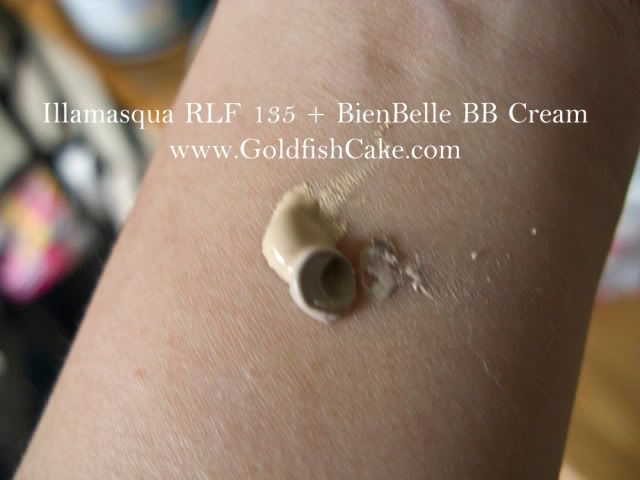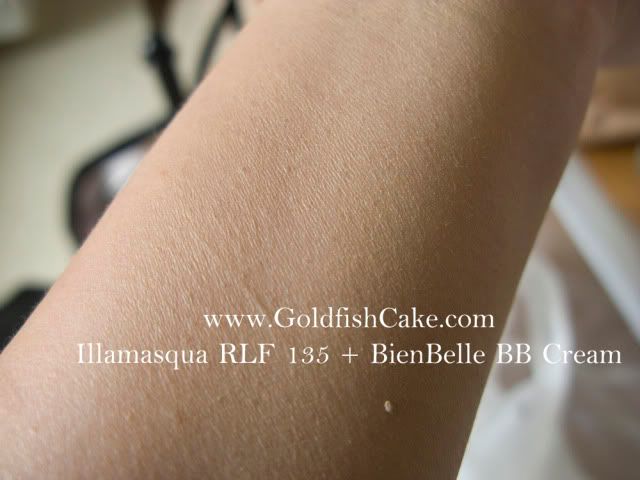 Don't rely solely on my review. My face HATES liquid foundation in general. I've tried all kinds and just about every brand. The only one that it has ever liked is Laura Mercier's oil-free formula. This foundation looks great on some people but it doesn't work for me unless I put in some work.
Thanks for reading this long-winded review. I hope it helps.
Related Posts: