NV Perricone is offering a free sample to a lucky reader of my blog!
This Giveaway is now closed to all new entrants! Thank you so much for your participation. I will be back within the week with the winning name!
The beautiful people of Perricone MD shot me an e-mail (I figure, if you're working for a high profile skincare line, you gotta be beautiful) and asked if I'd be willing to host a giveaway for a full-sized sample of the Advanced Eye Area Therapy. I was like WHAT?! Screw the GIVEAWAY! How about you GIVEAME?!! Oh, very well. I suppose you people have been good enough to me and deserve an occasional break. In eye area therapy form.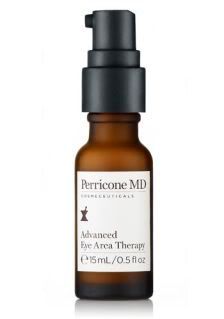 "The Advanced Eye Area Therapy is formulated with DMAE and Alpha Lipoic Acid to help prevent and correct the early signs of aging that appear around the delicate eye area, making us look older than we really are. It minimizes the appearance of fine lines, wrinkles and puffiness, while diminishing dark circles and discoloration with Vitamin C Ester."
– from the blog of NV Perricone
This stuff retails for $95 and they're offering it to one of you for free, so you should definitely enter.
You don't need to subscribe to my blog (unless you discover you do love me, after all) but there are a few things that I do ask of you. It might seem like a bit much but it sure beats bleeding out ninety-five whopping dollar bills.
Rules for entering:
US residents only. Sorry to those in my home planet!
Tell others about this giveaway, whether it is via Twitter, Facebook or some other social networking site.
Leave a comment detailing WHY you need a product like this for your skin-health needs, WHAT you have tried and whether they've worked and HOW you have spread the word about this giveaway. Links help!
This contest ends on Sunday after Thanksgiving. That is, November 29, 12am PST. That is the FIRST hour of Sunday, not the last. Don't say I wasn't specific!

Sunday the 29th is when the contest ends and Sunday the 29th is when I shall draw the winner. She or he will be contacted for her or his mailing address, which will then be transferred to the Perricone MD folks who will send you the prize. I'd wish all of you good luck, but that's like watching the Olympic Games and saying I hope everybody wins. It just doesn't work that way, does it? Happy gaming!

Related Posts: