Sorry I don't have cleavage shots for you guys today. Clearly, that was the highlight of my last entry. Clearly, I was doing this whole blogging thing all wrong and I should include more boob-shots next time. You vulgar animals, you, rowr!
Basically, this is how I wear eyeliner for just about every FOTD now:
If you want the step-by-step breakdown, please keep reading. If you have too much time on your hands, keep reading.
You will find that I don't rely on eyeliner alone to achieve a well-lined eye. It is important to highlight and blend properly.
When reading this, please keep the following in mind:
This tutorial is only for the eyeliner. The reader is supposed to assume that I will be applying this look with a complete application of eye shadows. I omitted the eye shadows so you can see the eyeliner better. Otherwise, this is exactly how I have applied eyeliner for most of my FOTDs, including the most recent smoky eyes.
The desired effect I am trying to achieve here is not to make my eyeliner show but to make my eyes stand out more.
You can extend the eyeliner to any length you desire. For this look, I made my eyeliner tail rather short.
You will never see me wearing harsh thick eyeliner that look like elf eyes got painted on my closed eyelids. I respect anyone who prefers that technique but I don't like the technique itself.
The tutorial I am about to post is not the one and only technique out there for monolids. Don't ever believe what others say about how there is only one right way to do makeup for single eyelids. Same with color choices. Bright pastel colors may be harder to apply without making our eyelids look puffy, but you can remedy that with the right application of contouring colors.
I like English muffins. I'm serious. Keep that in mind.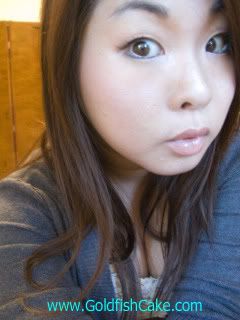 Believe it or not, just about all my recent EOTDs have been done using the same technique, with maybe slight variation in thickness and tail-length of the eyeliner. Just add eye shadow.
Now, then. Read on if you want to know how you can get from here:
to here:
My bulgy flat unimpressive monolid eye. If you ever doubted my eyelids of being crease-less, then these pictures must surely be enough evidence. By modern Asian social standards, my eyes would be considered quite unattractive and in need of cosmetic alteration. This is why I almost called my blog "the Monolid Rebellion". I don't have to be proud of my monolids, but I sure as hell don't need to hate them either.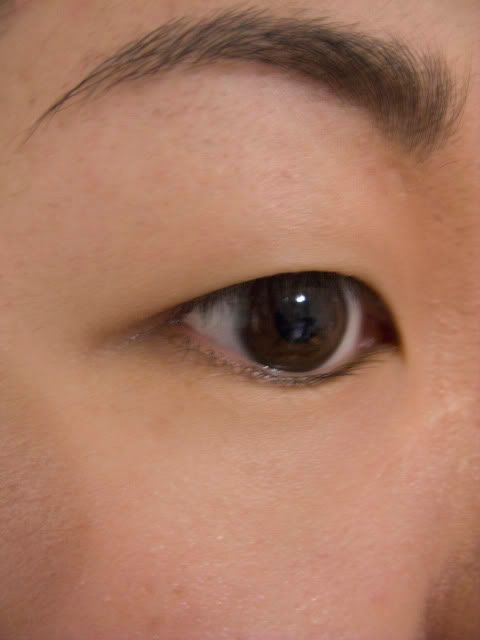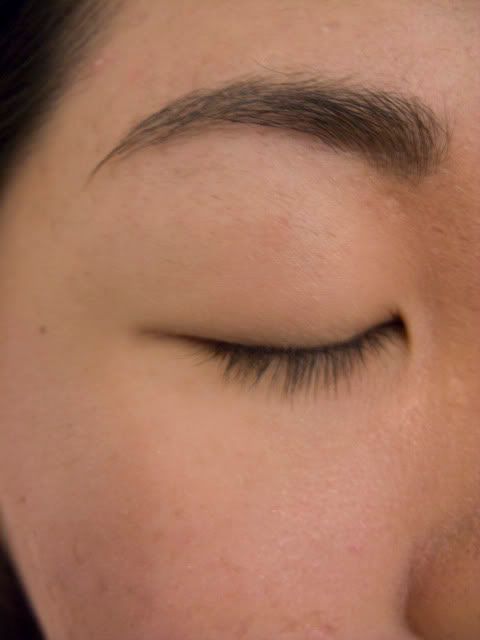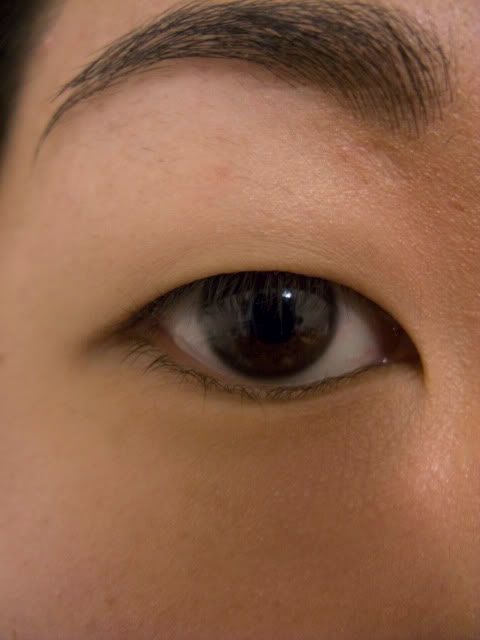 can you tell i cleaned up my brows since the last time? Now that the full moon is over, maybe the hair won't grow back so fast cuz I am apparently a fucking werewolf… or just a werewolf… that doesn't fuck… ok, shut up, Alienman
REMINDER:
Remember, I have omitted eye shadows so you can get a better look at the eyeliner. I would not wear this alone without wearing some eye shadow to blend it in more. Just like you wouldn't wear a perfect bra without a top over it… or would you? If you would, don't tell me about it.
Contouring: Apply a dark eye pencil or eye shadow to the outer edges of both upper and lower lash lines, then blend.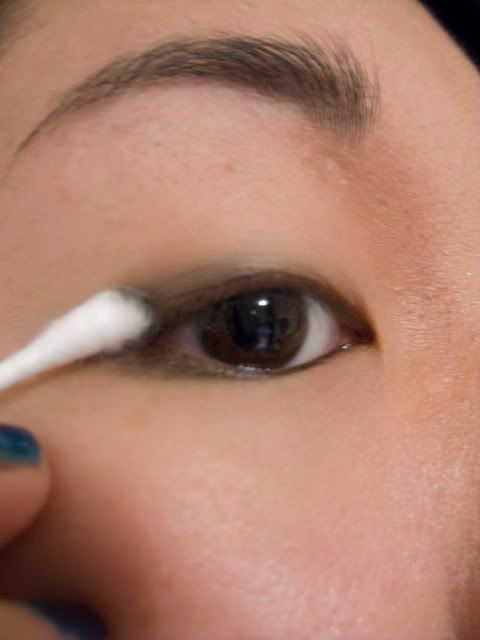 using NYX Jumbo Eye Pencil in Slate and a cotton swab
Should look like this: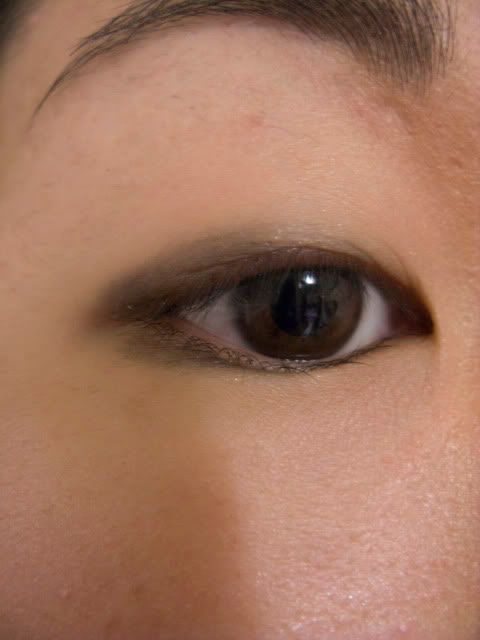 Lining: Start at the outer third of your upper lash line, just before the point where it would not get swallowed up by your eyelid. I have been doing it this way for almost all my FOTDs, including the two most recent smoky eye looks.
You can extend the end to any length and thickness you desire, so long as it follows the contours of your eye shape, but make sure you always start at the outer third of the lash line. Now that I think about it, I guess I should have made it longer here to show better.
Lower lash line: Line only the outer third. I also shifted down a bit from my lash line, which is not necessary but still effective in widening your eyes. This is a technique I picked up from browsing Japanese gyaru magazines. You have to be really careful and subtle about this for a daytime look, though. Sometimes, I fail miserably and walk around looking like I forgot to remove all my Pierrot makeup. Yet, here I am, with a makeup blog, talking like I know shit.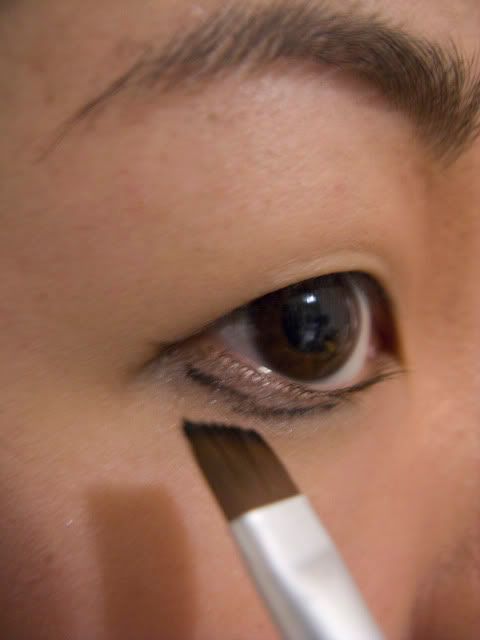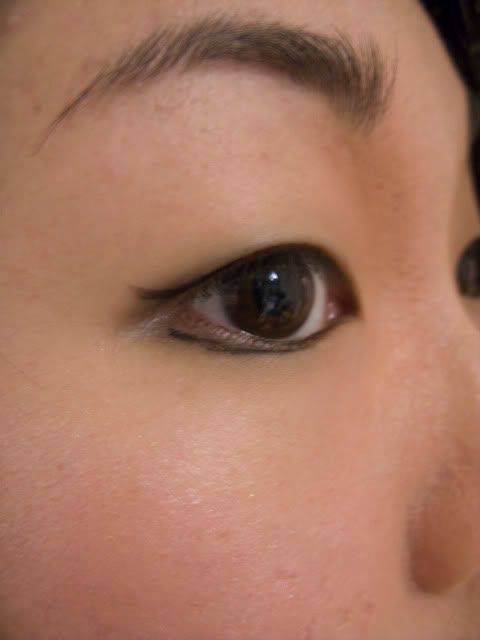 using: angled stiff liner brush with MAC Fluidline in Blacktrack
If you get a messy line like I did, just smudge it out with a cotton swab and go over it again, like I did. Then blend in that harsh line with the same contouring color you used for the first step.

Optional step that I left out: use a white kohl pencil to line your waterline and make your eyes look wider
Highlight: Use a silver or gold shimmer or pearlescent color to highlight the inner lower lash line.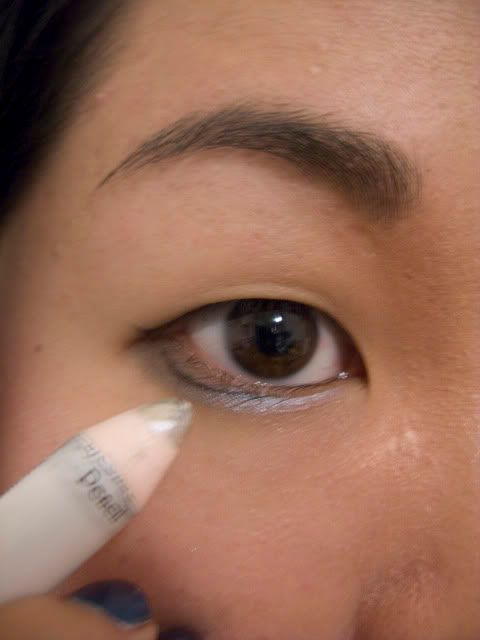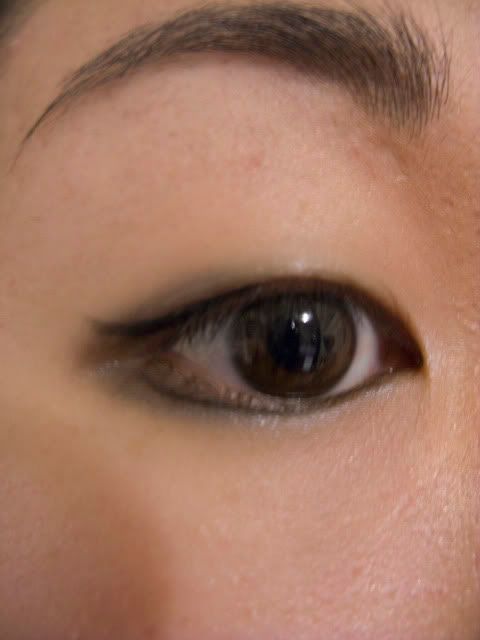 Using: NYX Jumbo Eye Pencil in Cottage Cheese. Don't forget to blend, blend, blend!
Curl lashes and apply mascara. Don't use old clumpy mascara like I did. Holy crap, my lashes look awful HAHAHA. I wonder if Velcro balls would stick to them…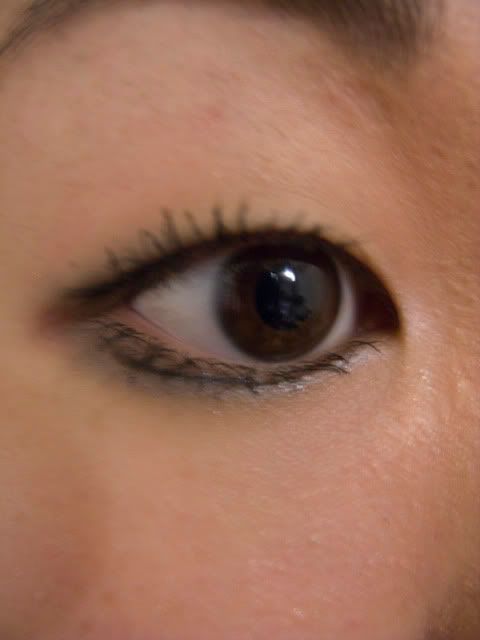 So, there you have it. This is me with just the eyeliner technique and no eye shadow.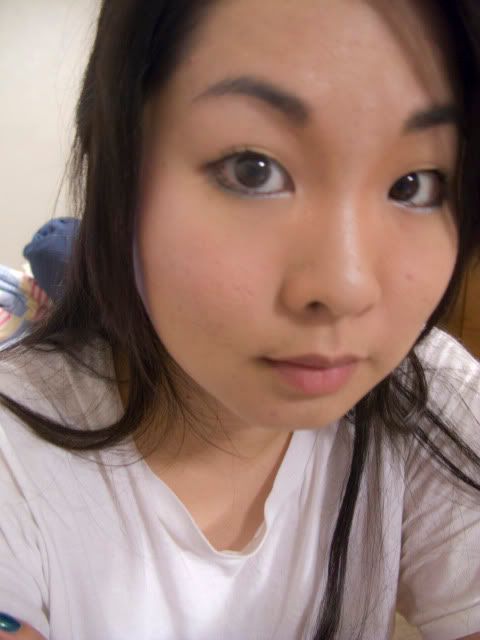 i wonder if anyone has noticed i've been doing this same exact face and pose for all my recent FOTDs. crap, maybe i shouldn't be writing this down and making you notice but my fingers! they keep typing!! i will be the next "same face in every picture" girl.

do I smell FOOD?! applied NYX Round Lipstick in Circe and NYX Mega Lipgloss in Crystal Soda
Thanks for viewing!
Related Posts: